How to Stop Drinking
Are you ready to discover how to stop drinking and be happy again?
1. Do you want to drink daily?
2. Do you drink more quickly than your friends?
3. Do you turn to alcohol when you feel stressed?
4. Have friends or family expressed concern?
5. Have you tried to cut down or stop and failed?

If you answered yes to one or more of those questions then finding this website may be one of the best things you ever do.
"I understand exactly how you feel and what you are going through, I cured my own drink problem using this powerful technique".
Isn't it going to be amazing to wake up each morning with with no hangover, no regrets and feeling full of energy and vitality?
As you think about all the things that are going to improve in your life. You might also like to picture your bank account with thousands of extra dollars in it. The average member saves over $3200 per year.
Can you imagine what your life is going to be like when you have a  limitless abundance of quality time with your family and loved ones?
Alcohol is stealing much more than money from you, the quality time you are going to get back is another of the major benefits you will discover.
Take a moment to consider all the other parts of your life that are going to get better. You should know that my stop drinking course is not only proven effective but it is recognised as the fastest and easiest way to stop drinking available today.
You should trust me

because I have been where you are now: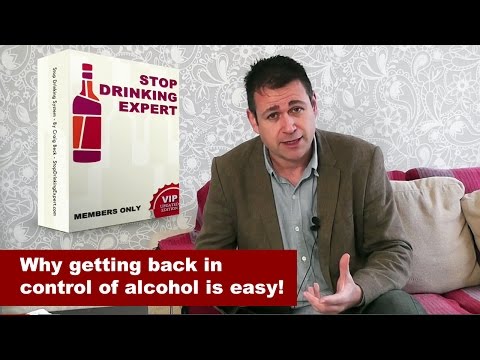 About me and how I am going to help you to stop drinking today:
Hello,
Believe me on this, my program only works so well because I have been in the same alcohol-trap as you and escaped… Two bottles of wine a night and even more at the weekends was normal for me.
I was shocked to discover every other 'cure' uses willpower as the primary component of the method. This is insane! It's like trying to put out a fire with gasoline!

I know you don't want to stand up and call yourself and alcoholic. Actually I don't believe you are, when you are inside I will tell you why.
I understand you don't want to risk your career or have any sign of this problem on your medical records. With my online stop drinking cure, you can deal with this in 100% privacy.
My program does not require you to resist the urge to drink. You need zero willpower to get back in control of your drinking. One of the things you are going to love about my course is you will be able to cut down or even stop drinking completely.
Make the decision now, I have designed this unique online course to take you through the exact same life changing program that I went though. The sooner you get started the sooner every area of your life starts to improve.
Yes get started right now and step by step I will show you exactly what to do. All the material is downloadable (and yours to keep) so as soon as you get started, you can read, listen or watch – wherever is best for you.
A word of warning… you don't have to decide now, you could wait… but why would you do that? Trust me, problems with alcohol NEVER get better on there own – so do something about it right now. And as you consider all the areas of your life that are going to improve as soon you get started with my course, remember that I can't help you until you make the first step.
Remember the sooner you start, the sooner you start living the life you were meant to have.
Craig Beck
Stop Drinking Expert
"You are about to join a very elite group of happy people"
"YES I am ready, I want get started now & get my life back"
* How to Stop Drinking Alcohol Club Important Disclaimer:
The method results and testimonials displayed on this website are based on individual cases, your experience may vary and or be entirely different due to your own unique situation and environment.
You must not rely on the how to stop drinking alcohol information on this website as an alternative to medical advice from your doctor or other professional healthcare provider. If you have any specific questions about any medical matter you should consult your doctor or other professional healthcare provider. If you think you may be suffering from any medical condition you should seek immediate medical attention. You should never delay seeking medical advice, disregard medical advice, or discontinue medical treatment because of information on this website.
Billing information: Your credit card will show a charge by PayPal*CraigBeck, ClickBank or CLKBANK*COM. Credit card chargebacks are automatically set to Persiga Debt Recovery so please look out for our charge and remember it was generated by you joining the club. No mention of ' how to quit drinking alcohol ' will be mentioned on your credit card statement.
ClickBank is the retailer of this product. CLICKBANK® is a registered trademark of Click Sales, Inc., a Delaware corporation located at 917 S. Lusk Street, Suite 200, Boise Idaho, 83706, USA and used by permission. ClickBank's role as retailer does not constitute an endorsement, approval or review of this product or any claim, statement or opinion used in promotion of this product.